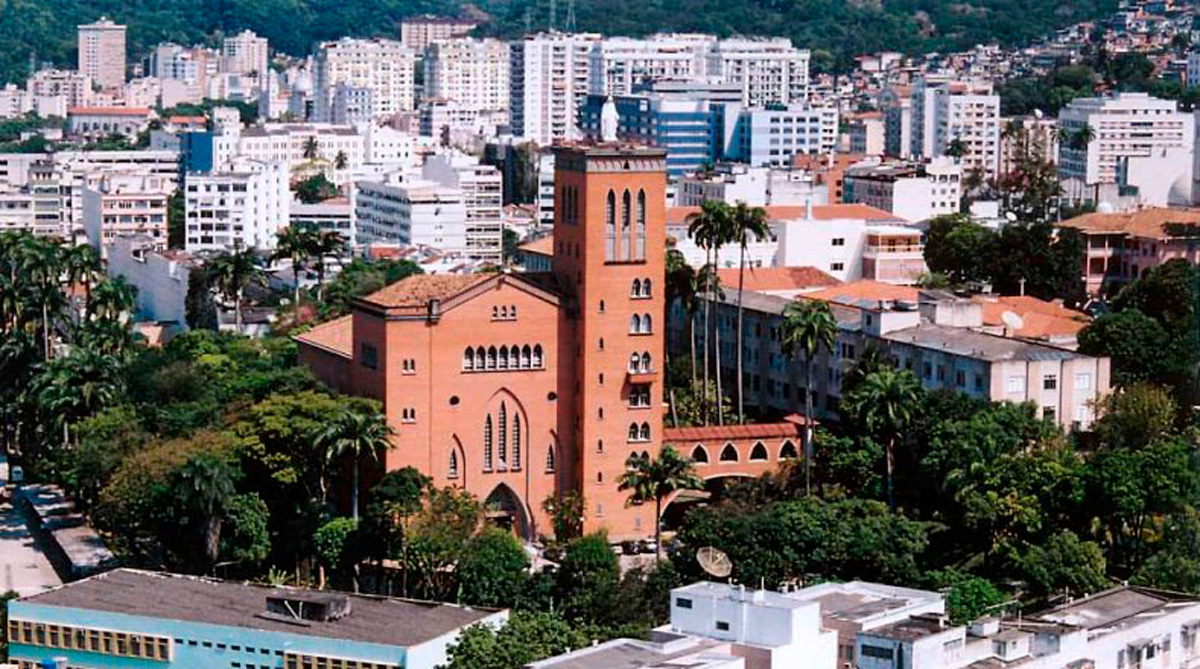 Located within the Provincial House complex in Tijuca, in the northern area of Rio de Janeiro city, the Miraculous Medal Shrine was inaugurated in 1955. Imposing and sober at the same time, the Shrine has two small chapels on its sides, meeting rooms and the crypt with the Sisters' ossuary in the basement,.
Every year, the Shrine welcomes hundreds of pilgrims and devotees that respond with their faith the call of the Virgin, brought by Saint Catherine Labouré´s: "Come to the foot of this altar. Here the graces will be poured over those who do ask for them."
The number of faithful who come every Monday and on the 27th of each month for the perpetual novena is significant, a movement that grows considerably in November, at the occasion of the Feast of the Virgin of the Miraculous Medal.
History
The Miraculous Medal Shrine's construction is dedicated to the Mother of God and was motivated by the canonization of the Virgin Mary's seer, Sister Catherine Labouré in 1947. The foundation stone was laid on June 26, 1949, with the presence of the Cardinal of Rio de Janeiro at the time, Msgr. Jaime Câmara and the opening took place on July 18, 1955, with a majestic solemnity headed by His Eminence Rev. Lázaro Neves, CM.
The image of Our Lady of Grace of the Miraculous Medal was transferred to the Shrine on May 31, 1981. It´s a five and a half meters high sculpture and weighs
4.5 tons. The image was lifted to a height of 60 meters, on top of the Shrine's tower.
In 2003, the Chapel of Our Lady of Grace and the Miraculous Medal Shrine were declared a monument by the City Hall of Rio de Janeiro. In 2021 the image of Our Lady of Grace was restored.
VISITING HOURS
Opened for visitation (Special hours during the pandemic):
Monday – Closed
Tuesday to Friday – 8am to 5pm
Saturday – 8am to 12pm
Sunday – 7h30am to 12pm
Mass service:
Sunday, 8am (limited to 122 people, in order of arrival)
Shrine Secretary's office hours:
Monday to Friday – 8am to 5pm
Saturdays – 8am to 12pm
Shrine Gift Shop:
Tuesday to Friday – 8am to 5pm
Saturday – 8am to 12pm
Sunday – 9:30 to 11:30 am
Weddings and Baptisms Weddings:
Available times: Saturdays at 5pm or 7pm.
Baptisms:
Available times: Sundays, after the 10am Mass
The Shrine of Our Lady of Grace of the Miraculous Medal does not offer preparatory courses for engaged couples or godparents. However, it is necessary that the couples, the parents and godparents take the course in another parish in order to perform weddings or baptisms in this Shrine.
PRAYER REQUESTS
Leave here your prayer request.
CONTACT US
Gift Shop: (21) 2563-9496
Sacristy: (21) 2563-9492
Secretary office: (21) 2563-9497 / 998381784 (WhatsApp – messages only)
E-mail: sec.santuario@asvp.org.br
Address: Dr. Satamini St. #333, Tijuca